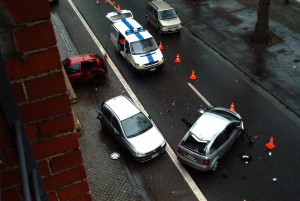 A little over two years ago, the first of many arrests were made in connection with automobile insurance fraud schemes here in Jacksonville. The schemes involved "staged", or prearranged, accidents at low speeds to create realistic accident scenarios. The driving participants would then seek medical treatment at select clinics established to milk insurance companies out of personal injury protection (PIP) coverage payments.
The scheme first originated in South Florida, especially the Miami area, and spread here to Jacksonville. To date, there have been in excess of 100 arrests made in these cases locally. There are still suspects at large and many filed cases are still winding their way through the court. Many of the participants are not fluent in English and require interpreters in court and for meeting with their Jacksonville criminal defense attorney, further complicating the process.
The State typically charges a participant with several different crimes arising from the same conduct in these cases. Those charges include: (1) knowingly participating in an intentional motor vehicle crash, a second degree felony punishable by up to 15 years in prison; (2) filing, or causing to be filed, a false insurance claim, a third degree felony punishable by up to 5 years in prison; and (3) schemes to defraud, a first degree felony punishable by up to 30 years in prison. In addition to these maximum sentences, knowingly participating in an intentional motor vehicle crash carries a minimum mandatory sentence of 2 years for each count.
You can be found to have participated in a staged accident by being a driver or passenger, a "recruiter", i.e., someone who either helped to plan or stage the accident or who directed the "injured" parties to a clinic, or a clinic owner, operator or employee. If you've been arrested in connection with a staged accident, a Jacksonville criminal defense lawyer familiar with these cases can make a big difference in the outcome of your case, including whether you are sentenced to prison and for how long. And, despite the applicable minimum mandatory sentences, it is often possible to negotiate a disposition of your case that either avoids prison time altogether or results in a sentence below the statutorily mandated minimum.
If you or a friend or loved one has been arrested or is on the run from charges of participating in a staged accident, call me for a free, no-obligation consultation to discuss how I can help minimize, or even avoid, prison time for you or them.